Ed Sheeran's Equipment
What equipment does Ed Sheeran actually use?
Ed Sheeran is admirable for many reasons. He is someone who actually started at the bottom and gradually worked his way up from street performances, through various live gigs to the very top. In this day and age, he fills the world's biggest venues.
But what equipment does Ed Sheeran actually use?
Considering Ed Sheeran's massive success, it's even more fascinating how short the list of his equipment actually is. He basically works with a microphone and an acoustic guitar, in combination with a Loop Station. In this article we will take a closer look at the equipment of one of the biggest superstars today.
Ed Sheeran's Guitars
Mostly, but not always, Ed plays acoustic guitars, using almost exclusively guitars by the legendary American manufacturer Martin.
Martin Ed Sheeran Divide
Ed Sheeran's signature guitar by Martin. Its design is similar to the previous model (see below) and therefore a rather small dreadnought acoustic guitar, which is very much based on the great Martin LX1E.
The difference to this one is several optical changes, which come from Ed's album cover "Divide" from 2007. These alterations manifest in a striking blue "Divide" logo on the headstock and more subtle inlays on the fretboard.
Martin LX1E
This mini-acoustic guitar has gained popularity ever since its release. Despite its small size, the guitar creates a full and rich sound, proving that this model is more than just a guitar for traveling or practicing.
It gives beginners and musicians with a relatively small budget the chance to own a guitar by one of the best brands in the world.
Fender Stratocaster
Many acoustic guitarists find the Strat to be one of the easiest electric guitars to play. The main reason for this is the thin neck enabling a balanced sound due to the guitar's curved shape.
So, Ed's first choice for electric guitars is a Fender Stratocaster, more precisely a green Eric Clapton Signature model, which he had customized by a graffiti artist.

Ed Sheerans Loop Stations
Boss RC-30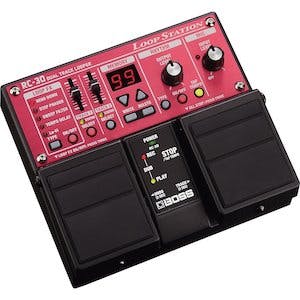 Even though Ed now uses a more specialized, modified Loop Station, he started out with a variety of Boss loopers. This Loop Station has two switches to control two separate audio tracks and comes with a larger number of memory slots to store his best sounds. There is a few pre-installed effects to spice up the sound a bit. He previously used the Boss RC20XL, which is no longer produced.
Update: The Boss RC-30 is no longer available. If you want to learn more about the successor of the RC-30, take a look at our review of the Boss RC-500.
Ed Sheeran Loop Pedal Tutorial with JoJo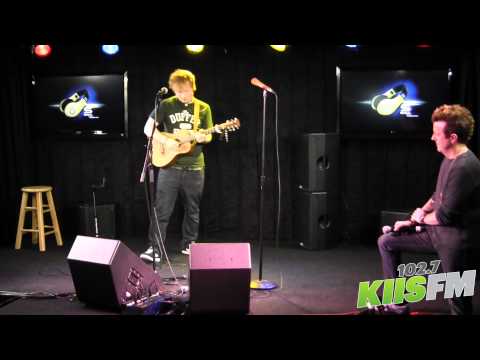 In the embedded video you can watch a loop tutorial from Ed Sheeran himself. In the tutorial he uses a Boss RC20XL, which is unfortunately no longer available. But you can find the successor model, the Boss RC-500, here.
Chewie Monsta
Over time Ed became more and more successful and looping became his specialty. Because of that he started to look for ways to optimize his equipment. Most musicians might believe that he chose the most expensive Martin guitars, but this is not the case:
Most often, Ed Sheeran still plays the same Martin LX1E guitar he has always used. But the Loop Stations are a little different, which is why Ed Sheeran sometimes uses a Chewie Monsta Loop Station. Unfortunately this is not available for the average Joe, as it was manufactured especially for Ed.
Boss RC-300
This model is an advanced looper, which is considered the flagship among Loop Stations. With the Boss RC-300 you can loop on three different audio tracks, each of which allows you to customize start/stop/overdub. This model is a great pick for any musician who wants to use a wider range of inputs (such as percussions, synths, drums or vocals) for their music.
Here you can read our review of the Boss RC-300.
Ed Sheeran's Special Equipment
The reason for having your own equipment designed and manufactured is clear: at some point you develop individual needs that commercially available products can no longer meet. Since Ed Sheeran uses a Loop Station for almost every live performance, it was only a matter of time before he came up with something of that sort. The result is a custom-built Loop Station: the Chewie Monsta.
Designed in collaboration with a guitar expert, the Chewie Monsta uses the four switches from a Boss RC-20XL Loop Station, which were custom-built into a metal case. It also features two screens allowing Ed to see specific information when he's performing live. To be exact, this device is not really a "Loop Station" in the classic sense, but rather a modified MIDI controller functioning as a VST looper that can be operated via a laptop with the Ableton Live software. The laptop is usually somewhere next to or behind the stage and is monitored by the live crew.
This unique design allows you to erase any limitations such as the number of tracks, effects or loop lengths, making the setup work best in live performances.
The exact VST looper, i.e. the software plugin that Ed uses is called Mobius, which you can [download for free].
More reviews