Loop Stations for Every Musician
Find the Right Loop Station for You
This website provides you with sufficient information on Loop Stations and compares a wide range of models.
A Loop Station (or looper) is a technical device for recording audio tracks and playing them back in an endless loop. To do so, either a microphone or musical instrument is connected to the device, in order to loop the successively recorded audio tracks. Because of the many differences between the various Loop Stations (e.g., recording time, number of storage options or different inputs and outputs), this website offers an overview of our most favorite Loop Stations for beginners and professionals.
Compare models for beginners or professionals by clicking on the corresponding link.
Our Recommendations
Models for Beginners
Boss RC-3 Loop Station Demo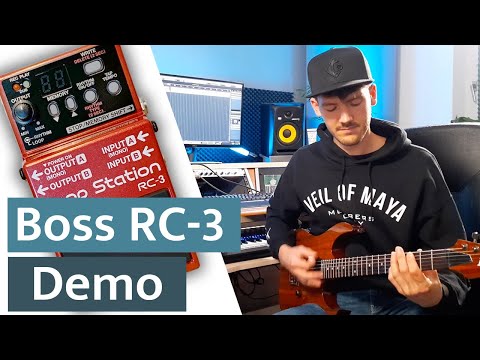 The video above shows you how to use the Loop Station Boss RC-3 by looping some riffs with an electric guitar. In the following paragraphs, you will learn about the history of the loop technique as well as the functionality of modern devices.
About the History of the Loop Technique
The so-called loop technique came about with the invention of the tape recorder. The term 'loop' originally described a piece of tape stuck together at both ends. Playing this endless loop made it possible to play back a recording that was always repeated in the same way. In the 1960s, numerous artists experimented with this new technique of recording and playback. Terry Ridley developed the first commercial device called "Time Lag Accumulator"¹. It had two linked tape recorders using a mutual tape. So, the length of the loop was determined by the distance between the recording device and the playback device.
Robert Fripp of the legendary band King Crimson and Brian Eno used the same technique in the 1970s but under the name "Frippertronics"². The rise of the rap and hip-hop culture in America in the late 1970s created its style-forming loops by coming up with special operating techniques of turntables. Today, there is a wide range of so-called Loop Stations available. The recording and playback of loops is done electronically offering musicians a variety of possibilities. In the following, we will have a closer look at these options.
Our Recommendations
Models for Professionals
How a Loop Station Works
The Loop Stations you can find on the market have significant differences in terms of features, operability and price. However, all models offer some basic characteristics. Musical instruments or microphones can be connected with a cable to record an audio track which is played back in an endless loop. A second audio track can be put over the first audio track. This process, also known as Overdubbing, offers the possibility of combining several (not simultaneously playable) parts of a musical piece.
For example: You're playing a short progression of four chords on the guitar. This is recorded on your device and played back as a loop. Now you could for example play a solo over this recording. This basic feature is ideal for musicians who want to practice without playback. Now you can also record the second audio track, played in real time, and both loops can be played back at the same time. A third track, maybe a vocal part, could then be put over the two loops. By following this process, a complex musical piece can be created "layer by layer" by just one person. Usually, it's possible to control the different tracks separately, and to switch them on and off as required. It depends on the features of each Loop Station how many loops can be recorded and how long the tracks can be. Many models offer additional features, like a built-in effect unit or switchable drums. If you require many different effects, we recommend multi-effect devices providing you with various features. Most Loop Stations are ground equipment ("pedals"). They are "free-hand", i.e. you operate them by foot.
Before buying a Loop Station, you might ask yourself: "What do I want to use the Loop Station for?" If you're the lead guitarist in a band, you would probably like to practice your solos at home, preferably without having to record long rehearsal sessions. With a Loop Station this is easy: Simply record the basic riff of the rhythm guitar as a loop and you can use it to improvise for hours - simple and brilliant. 🎸
For this purpose, you don't need a model with countless audio tracks and storage space. We compared models of this category in our beginners section. However, if you would like to simulate an entire band as a solo artist or street musician, you might want to choose a device offering you exactly the features you need. We put together a selection of several more complex devices offering more features in our section for professionals. Another important aspect is the handling. Not everyone is a technology enthusiast who enjoys delving into pages over pages of instruction manuals. Everyone who values a simple and intuitive handling should consider this factor in their decision. Many solo artists - such as Ed Sheeran - use a Loop Station during live performances on stage. Especially in these situations, a simple handling is of utmost importance.
Loop Station Software
With the right looper software, you can transform your PC or Mac into a true multi-talent when it comes to recording and editing, even without any additional hardware. Your own songs, ringtones, jingles or sound effects can be easily created. There are programs for beginners and professionals. Feel free to check out our article on looper software.
A good summary of available Loop Station software can be found at: livelooping.org/tools/software.